Welcome To
Paul Jones Architects
Paul Jones Architects Ltd was formed back in August 1980 it has grown in both size and sophistication over the years into one of the South's leading firms of Chartered Architects.
Its enviable reputation has been built on producing high quality design and personal service. It provides a unique service of designing and constructing every project undertaken to both budget and programme.
It offers individuals or companies their services as either Architects, Designers, Project Managers, Town or Master Planners on the following categories of work:
RESIDENTIAL

COMMERCIAL

INDUSTRIAL

EDUCATIONAL

HEALTHCARE

LEISURE

LISTED BUILDINGS

DESIGN AND BUILD
"the practice that provides the service that everyone else promises"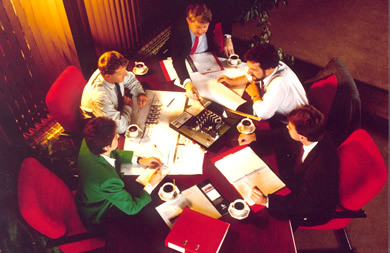 Harbour Luxury
Full Steam Ahead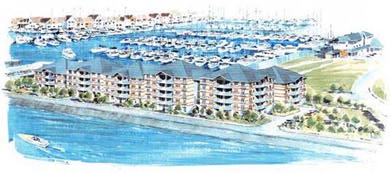 Anchorage Park at Port Solent is one of Persimmon Homes Plc's most sought after apartments, designed by Paul Jones Architects it is one of the most imaginative and prestigious schemes to date.
The 76 Apartments recently won a Third Place in the Prestigious National Housing Awards ceremony held in London.
The design takes advantage of the stunning setting with every apartments balcony having views to the marina or over Portsmouth Harbour taking in Portchester Castle on the opposite side.
The unique design of the balconies are reminiscent of a ships bridge and have described by a number of the apartment owners as the focal point of the design,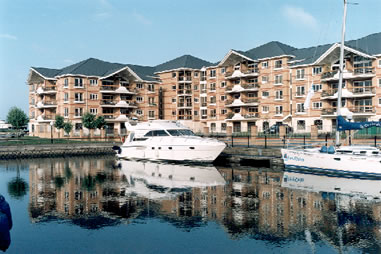 New Commissions include:
The appointment as Architects in 2003 to the "Rose Bowl Plc", home of the Hampshire Cricket Club. We have been appointed to continue with the design and co-ordination of the construction of all the additional buildings. These include the proposed two new Stands located each side of the existing pavilion at an estimated cost of £2.5 million pounds each, and the design of a new multi-purpose sports centre at an estimated cost of £9 million pounds.

We are also dealing with the majority of any planning issues that arise on site, including the negotiation with the Local Authority working alongside the Director of Project Services Mr Geoff Cox. "we are delighted to have been chosen by the Cricket Club as their Architects, and will provide them with the support and service that they require of us".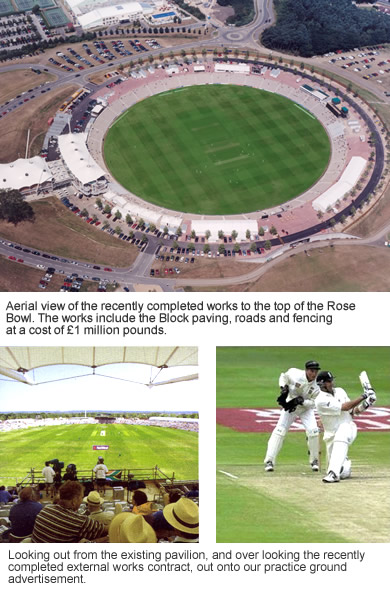 New Aircraft Decoy Middle Wallop Hampshire

Wallop Defence Systems (A Division of Cobham plc) has built up an unenviable reputation for the design and production of Defence pyrotechnics.
Wallop Defence Systems is the prime manufacturer of infra red decoys for the Royal Air Force and has been for nearly thirty years. During this time the company has been in the forefront of the design and development of advanced infra-red emitting components such as the HOTSPOT flares which are fitted to most Royal Air Force and Naval aircraft in service.
Paul Jones Architects are pleased to have been commissioned by Wallop Defence Systems Ltd in the design their new offices and a nine acre Pyrotechnics facility at Craydown Lane, Middle Wallop for the provision of explosive storage and assembly of Low Temperature Decoy Flares, which is the latest technology in the design of decoys against in-coming heat seeking missiles.
Allied Lyons Ltd, Camberley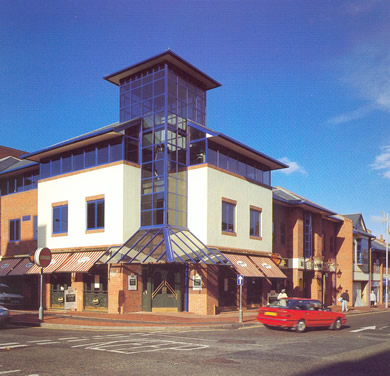 A mixed development for Allied Lyons Limited comprising four shops, offices, restaurant and Public House with Managers flat. The design successfully links the High Street with its intimate Victorian character to the modern architecture of Pembroke Broadway.
Pegasus Ltd, Waterlooville


A wider perspective........
"Free thinking, being able to see things in a wider perspective; that's a special quality I would look for in a firm of Architects. Often when you talk to professionals they have their own ways in which they like to do things. As long as you want to do what they want, there is no problem. But when you are looking for help and advice you don't always want to be offered the same old solution.
"Paul Jones Architects have the ability to "step outside the box" and look for a solution that will work, with their extensive knowledge of design and planning matters, they were able to lead us by the hand through the maze"
Angus Hannigan, Managing Director
Pegasus Ltd.